Where oh where does the time fly to? It just two months now until Christmas--and 3 months until Andrew's 2nd birthday! It might seem a bit early to some, but I'm already in holiday shopping mode pre-Halloween. Too many last-minute mall shopping trips have definitely scarred me!

This year, like last, I really have to set a Christmas present budget and stick to it. So, its homemade gifts when possible and on-sale items for the rest. Luckily, there are so many discount stores and online shops with great, budget-friendly gift collections. BUT, you must make sure you get in there early so that a) your gifts arrive in time with the cheapest shipping option and b) you miss any holiday price jacking madness!

In an early spirit of giving--because I always feel like giving to you all!--here is a list of my favorite budget gift-buying locales of the moment.

1) The Christmas Tree Shops: Run, run, run now to your local Christmas Tree Shop (Rocklanders, there is one in the Spring Valley Marketplace). Despite its holiday name, this chain of stores is a year-round mecca for low-cost, good quality home goods and toys--meaning GIFTS! I particularly adore the seasonally decorated bakeware and tableware for as low as $1, which would be perfect for an adult friend or relative (and me!)


2) Zulily.com and Totsy.com: Both of these websites offers great products at nicely-discounted prices from babies/children, women, men, and the home. I really like to order fancy kids clothes, accessories, maternity clothes, and toys that I could not otherwise afford from these stores--but you must order early due to their 2-4+ week shipping time! Of course, it is hit or miss with how good the discount is--but sometime you'll find a really great deal that begs buying (see $20/originally $54 dress from Zulily at right).


3) Redenvelope.com's Sale Section: Red Envelope has a great selection of memorable gifts for the whole family and their sale selection is so nice! Right now their cute 4.5-inch swan ring holder (right) is only $14.99 (ceramic or metal). They've also got beautiful .057ctw sterling silver hoop diamond earrings available for $29.95 (originally $49.95). Check it out!

4) Lenox.com's Clearance Section: Ditto the above for the Lenox online clearance section--but this time, you'll be giving the prized Lenox name! Lenox has jewelry, flatware, tableware, glassware, figurines, ornaments and more on sale. There's destined to be something budget-friendly which would make a great gift for friends, moms, moms-in-law, or coworkers. How about a $20 set of 4 3-inch 24-karat-gold-accented fine china mini angel ornaments (originally $43)? Or a $5.00 lidded Dansk sugar bowl and its matching creamer (each originally $19)? I know I wouldn't mind receiving the $6.95 24-karat-gold-accented square Hope dish (below; originally $20)!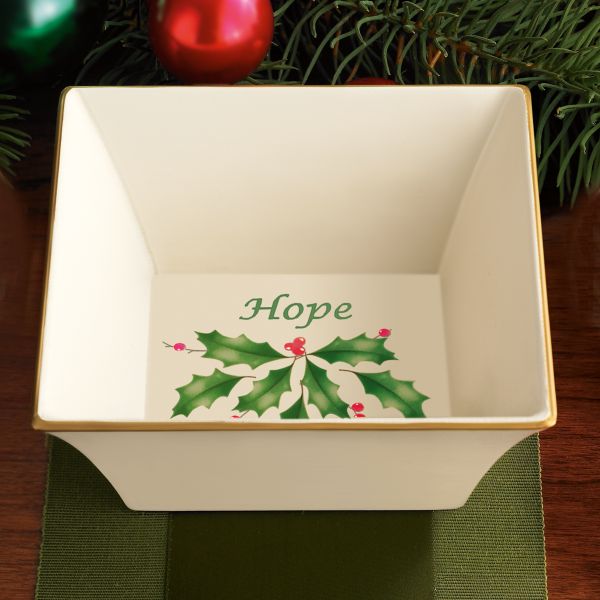 So, what are you waiting for, Christmas Eve? Start hand-crafting and sale-shopping with me sooner rather than later so we won't have to pull our hair out come December. And please send me your favorite bargain-shopping locales too--I can always use more!