Fridays are a day to make new friends on the blogosphere! Check out the Friendly Friday follow at Toddler Awesome and Smart & Trendy Moms' Blog Hop below to find great new blogs to follow and followers of your own.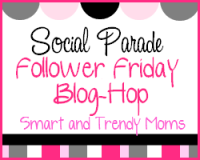 You can also check out this great blog Cakeblast which lists a variety of other Friday Follows to join in on.
http://cakeblast.com/friday-follow/find-followers-friendly-friday-more/
See you soon!